Let's make consumer electronics more sustainable!
BuyAware is a student-run organisation based in Switzerland. Our vision is to improve work conditions and decrease ecological impact in the electronics sector. Our goal is to shift the industry towards fair production conditions and a circular, sustainable economic model.
To make this dream come true, we created a rating to rank smartphones. It informs consumers about the ethical and ecological background of products so that they are able to make more responsible buying decisions. We do this by rating devices according to 6 different criteria, ranging from worker rights to carbon footprint and performance. Our rating is a tool designed to empower consumers! We hope to influence their attitude towards sustainable electronics thus pushing innovators to create more green and ethical products.
How did the project evolve?
2019 – At the crossroads

| | |
| --- | --- |
| Dec | Design and release of our new website. |
| Apr | BuyAware presents at an event at EPFL in Lausanne. |
| Mar | BuyAware participates in the Sustainability Week Switzerland. In Berne, a presentation is held with Shiftphone Switzerland while our ratings were shown in main building of ETH Zurich. At the Sustainable University Day, BuyAware hosts a workshop table to get more project feedback. |
| Feb | Release of a video illustrates BuyAware's activities. At the Activity Fair organised, BuyAware can reach out to students with information on sustainable electronics. |
| Jan | BuyAware holds a general assembly proposing the formation of a bigger board and specific work groups. |

2018 – A year to remember

Dec
Financial support is granted by Stiftung Mercator Schweiz, Global Changemakers and the U Change programme by swissuniversities.
Nov
BuyAware organises a movie-night, showing the movie "Death by Design".
BuyAware takes part in a Poster-Session for the Winners of the BOOST Sustainability Challenge by the University of Basel.
In order to promote synergies within the field of sustainable electronics, BuyAware organises a networking event which is attended by 10 different organisations at the University of Berne.
Oct
BuyAware presents its project at the University of Berne through BENE, the association for sustainable development.
BuyAware is selected for the Final of the Swiss Student Sustainability Challenge 2018 by the FHNW.
Aug
Co-President Jonas Nierberger is awarded the Title Global Changemaker 2018 for his work at BuyAware.
Jun
BuyAware holds a workshop on sustainable electronics at future.camp at the Impact Hub in Zurich.
May
BuyAware is present at the LUGA 2018 as part of the Sonderschau Jugend. People can inspect the BuyAware Rating on the newly built Website.
TEDx hosted by the University of Applied Sciences and Arts Lucerne gives BuyAware the floor to talk about rethinking the way we make electronics.
Apr
As part of the Denk-Weiter-Woche at the University of Basel, BuyAware organises a panel about modular smartphones.
During the Brot für Alle Campustour, BuyAware gives input speeches in Basel and Zurich.
BuyAware is invited to talk about its rating and sustainable electronics at RISE Lucerne.
Mar
BuyAware again participates in the Nachhaltigkeitswoche Zürich 2018. The next generation of assessments is presented at the University of Zurich. In addition BuyAware co-organised the event "Your First Step Towards a Sustainable Future". BuyAware also organised three talks on circular economics in the electronics sector at the ETH Zurich.
Feb
Speech at the International Swiss Talent Forum. At the Activity Fair BuyAware shares information concerning sustainable electronics. At the im!pact workshop at the FHNW, BuyAware shares experiences.
Jan
The second general assembly of BuyAware was held.

2017 – First events and the rating takes on form

Sep
The BuyAware team grows, organizes workshops about sustainable electronics and starts the development of the first website.
BuyAware is awarded patronage by the VSUZH Impulsfabrik and financial support is granted by Global Changemakers.
BuyAware presents at Step Into Action Berne organised by euforia.

Aug
After a comprehensive review cycle the BuyAware List of Criteria 2.0 is released.
Patrick Weber is named a Global Changemaker 2017 for his work at BuyAware.
Jul
The BuyAware leadership holds off a retreat to further develop the project.
May
BuyAware again appears at the Sonderschau Jugend at the LUGA 2017. Visitor can see the ranking prototype and participate in a competition sponsored by Handydoctor.ch.
Apr
BuyAware is supported by the Differencelab and the foundation Mercator Switzerland.
Mar
Results of the first BuyAware Assessments are presented at the Nachhaltigkeitswoche at University of Zurich.

2016 – Founding efforts and first results

Dec
The first general assembly of BuyAware is held in Niederrickenbach.
Nov
The association BuyAware is founded in Lucerne.
Oct
The first prototype of the BuyAware Rating is released after half a year of development and is based on the BuyAware List of Criteria 1.0.
May
BuyAware presents its ideas and a mock-up at the LUGA Spring Fair 2016 in Lucerne as part of the Sonderschau Jugend.
Financial support is granted by Swiss Youth in Science.
Mar
BuyAware is presented at Generactions, an event hosted by Infoklick Zentralschweiz and innovage. Valuable feedback from new audiences is gathered.
Feb
The project development is presented at the Swiss Talent Forum 2016.

2015 – The first sprout begins to grow

| | |
| --- | --- |
| Mar – Nov | BuyAware is developed further by students from different Swiss universities and high schools under the mentorship of Fabienne Felder. Exploratory surveys are conducted to sharpen the BuyAware's vision. |
| Feb | An early version of BuyAware is developed and presented during the Swiss Talent Forum 2015. |
How can you help to shift the electronics sector to be more sustaiable?
Before you make the Purchase
While you use the Phone
Handle your device with care and buy a case.
Use your device as long as it functions.
If your phone is damaged, try repairing it before buying a new one.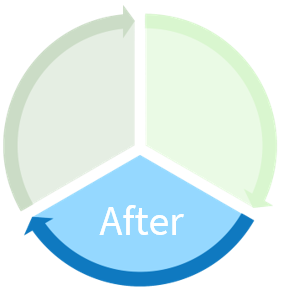 After you are done using your Product
When you no longer need your phone, pass it on or sell it so that others can use it.
If you want to dispose of it, see to it that it is disposed of correctly at a recycling station.
What does media say about us?
On a website […] consumers can obtain information about the origin of electronic goods in order to make a more conscious purchase decision.
Luzerner Zeitung
The student non-profit organization Buy Aware has set itself the goal of educating the population about the ethical and ecological aspects of electronic products.
Limmattaler Zeitung
BuyAware wants to address a very broad spectrum of customers and make consumer behaviour more responsible.
Luzerner Rundschau
Each of these categories covers one phase of the life cycle of an electronic product and contains all aspects relevant for the purchase decision.
Beast Blog Uni Basel